---
Wild West Motif Lightens US Mood at Afghan Base
Source:
The Associated Press
By:
CHRISTOPHER TORCHIA
Wild West lore lightens US troops' mood at Afghan base surrounded by harsh desert, insurgency


FORWARD OPERATING BASE TOMBSTONE, Afghanistan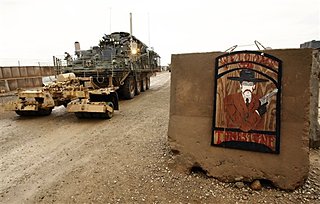 A U.S. Stryker armored vehicle leaves the Tombstone base in the Helmand province, Southern Afghanistan, Sunday, Feb. 7, 2010. The sign at the entrance shows Wyatt Earp, the legendary lawman of the American Wild West. (AP Photo/Pier Paolo Cito)
(AP)
Welcome to the O.K. Corral.
Past the concrete slabs and guards in heavy combat gear, a wooden board at the entrance to an allied military base in Afghanistan shows an image of Wyatt Earp, the legendary lawman of the American Wild West. His features are stern and angular. He wears a cowboy hat and a drooping mustache, and a black-gloved hand holds a long-barreled revolver across his chest.
The lore of the Wild West and the hard reality of southern Afghanistan, the key battleground of the war between NATO forces and Taliban insurgents, share a few things: danger, men with guns and desert wilderness. At Tombstone, an allied base deep in the Taliban stronghold of Helmand province, signs and images recalling the 1881 shootout in Tombstone, Arizona give the place a gunslinger motif.
The edgy, theme park touch suits the American soldiers.
"It's a little more entertaining," said Sgt. Maj. Robert Haemmerle, who is attached to the 4th Battalion, 23rd Infantry Regiment of Task Force Stryker. "It's got a little pizazz."
Many U.S. military installations in Afghanistan are named after soldiers slain in combat, or units that first deployed at a particular site. It's unusual to see base features that lighten the mood in a region where the threat of death is a part of life.
British and Danish soldiers share the grounds with the Americans, but don't have Wild West logos among their tents and vehicles. On the U.S. side, an "O.K. Corral" sign has been hoisted in the parking area of the Strykers, U.S. armored vehicles that carry infantry.
The gunfight in Tombstone happened near the O.K. Corral in Tombstone. Earp and his two brothers, along with dentist and gambler John H. "Doc" Holliday, were looking to disarm and arrest the Clanton and the McLaury brothers for violating a town gun ordinance. Frank and Tom McLaury and Billy Clanton were killed in one of the most famous shootouts in U.S. history.
The Tombstone base is near the Afghan town of Lashkar Gah, where insurgents are active. It's adjacent to the far bigger Camp Leatherneck, a U.S. Marine base, and close to the British Camp Bastion. The Wild West theme seems to fit its small size.
"Out here is the John Wayne outpost, surrounded," said Daniel Smith of Mount Holly, N.J., a civilian who supervises the dining hall and other services for the American troops. "It gives a little home feeling, a home away from home."
Civilian contractors say they have added the Wild West decorations since last year. Door signs say Long Horn Saloon and Big Nose Kate's, a reference to Holliday's companion, "Big Nose Kate" Elder. A gazebo where soldiers chat and smoke is named after Tombstone's Crystal Palace Saloon. On the dining hall walls, there are copies of old "Wanted, Dead or Alive" posters and reward notices for the likes of the Sundance Kid, Butch Cassidy and Jesse James.
One Las Vegas notice hints at a lynching:
"Notice! To Thieves, Thugs, Fakirs, and Bunko-Steerers ... If found within the limits of this City after TEN O'CLOCK p.m., this night, you will be invited to attend a GRAND NECK-TIE PARTY, the expense of which will be borne by 100 Substantial Citizens."
Tech. Sgt. Efren Lopez, a military photographer from Phoenix, Arizona, knows the original Tombstone and plans to compile a display contrasting images of the base in Afghanistan with photographs of the place back home. For example, he'll set photos of the hulking Stryker vehicles alongside shots of stagecoaches.
"This reminds you a lot of the (American) West because of the desert," Lopez said of southern Afghanistan.
There is a somber scene in the British area at Tombstone, where a plaque on a Yorkshire Regiment memorial lists about 30 names of soldiers who died. It tells the reader:
"When you go home, tell them of us, and say: For your tomorrow, we gave our today."