---
Objections to U.S. Troops Intensify in Afghanistan
Source:
The New York Times
By:
ROD NORDLAND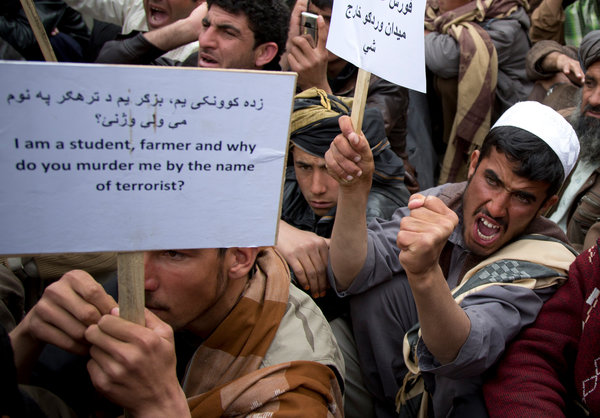 KABUL, Afghanistan — The continued presence of American Special Operations troops in Wardak Province, against the wishes of the Afghan government, brought demonstrators to the capital on Saturday and provoked a strongly worded denunciation from Muslim clerics.
President Hamid Karzai had given the Americans until March 10 to remove all Special Operations troops from the province, after complaints about night raids in which victims disappeared.
American forces are still there, and the top American commander, Gen. Joseph F. Dunford Jr., said that despite the public demands by President Karzai, "he has not issued a directive to the force, and he realizes that we're working this as quickly as we can." He was referring to a long-term plan to hand over authority to Afghan officials. American officials have confirmed that no withdrawal of the Special Operations troops is now under way.
On Saturday, the influential Ulema Council, whose members are appointed by President Karzai and represent all of the country's Islamic clerics, issued a threatening statement demanding the withdrawal from Wardak as well as a transfer of the American-controlled prison at Bagram to Afghan control.
"If the Americans once again do not honor their commitments and keep on disobeying, then this will be considered as an occupation, and they may expect to see a reaction to their action," the statement said. It referred to American forces in Afghanistan as "infidels," echoing language used by the Taliban.
Also on Saturday, 300 demonstrators from Wardak Province staged a noisy but peaceful demonstration calling for Mr. Karzai's order to be obeyed. Some were apparently relatives of people who disappeared in raids by Afghans who work alongside the Americans in Wardak, and they carried photographs of nine people who had disappeared after one of the night operations.
"We want our missing men, dead or alive," one young man screamed over a megaphone.
A joint investigation by the Afghan government and the American-led coalition was begun to determine the fate of those nine, but has offered no evidence yet about what happened.
Wardak Province is the western gateway to Kabul, but insurgents hold sway in many remote areas. There is little presence of regular American military units, so Special Operations troops, with Afghan special forces units, carry out the bulk of counterinsurgency efforts there.
Western officials have said the insurgents in the area where the disputed episodes took place were fighters with Hizb-i-Islami. The group long ago splintered into two factions, one of militant insurgents fighting the government, and the other a political party that supports it. The governor of Wardak Province, Abdul Majid Khogyani, who has lobbied intensively with President Karzai to win the pullout of American Special Operations forces from Wardak, is said to be close to that party.
"This is all about Afghan politics, and Hizb-i-Islami trying to get the pressure off," said one Western official, speaking on the condition of anonymity.
Asked by reporters on March 10, the day Mr. Karzai had set for all Special Operations forces to leave Wardak, if that was going to happen, General Dunford said only, "There are plans to develop a long-term security plan in conjunction with Afghan security forces to transition Wardak in a responsible, deliberate way."
General Dunford said on March 10 that after Mr. Karzai had issued his demand, he had met with him, "I told him I will work very closely with your security forces to develop a transition plan for Wardak Province."
Early the next day, on Monday, an Afghan police officer opened fire on American Special Operations troops and Afghan forces in Wardak, killing two Americans.
Then on Wednesday, citing disputes with the Afghans over Wardak, Bagram prison and recent "inflammatory" comments from Mr. Karzai, General Dunford issued an unusual advisory to top commanders warning them to be on alert for reaction that might be provoked by the comments.
Mr. Karzai has not made any further remarks on the subject, although he held an "Open Jirga" with elders in which he touched on both the Wardak and Bagram issues on Thursday. A full transcript was not available, but in excerpts issued by his press office, Mr. Karzai was quoted in a relatively conciliatory vein: "The president called relations between Afghanistan and America complicated and said that the recent problems in relations, such as lack of clarity in the fight against terrorism, complete transfer of Bagram prison to Afghan sovereignty, continuation of civilian casualties and lack of respect to national sovereignty of Afghanistan have caused problems between the two countries."
But Mr. Karzai, according to his press office, also praised the role of the United States in Afghanistan. "He called America a friend and a strategic ally," the statement said.
The Ulema Council then issued its broadside on Saturday, saying, among other things, "As the Koran says: Almighty Allah has never paved the road for infidels to rule and govern Muslims."
Mr. Karzai's press office issued a statement saying that the Afghan president spoke Saturday with the United States Secretary of Defense, Chuck Hagel, who asked Mr. Karzai for another week to complete the handover of Bagram Prison to the Afghans.
George Little, the Pentagon spokesman, described the conversation this way, "They agreed to use the next week to conduct intensive work with a view to concluding an agreement that fully recognizes Afghan sovereignty and our mutual interests in security of the Afghan people and our respective forces."
Sangar Rahimi contributed reporting from Kabul, Taimoor Shah from Kandahar, Afghanistan, and Thom Shanker from Washington.
---
Did U.S. Special Forces Commit Atrocities in a Key Afghan Province?
Source:
TIMES
By:
John Wendle
Maidan Wardak : - A cold wind blew through the bomb-shattered windows of the provincial governor's offices, wetting with snow the woolen shawls and eyelashes of the men packed into the meeting room. Around 200 elders from some of the most embattled districts of Afghanistan's strategic Wardak Province had gathered there to show their support for Afghan President Hamid Karzai's decree earlier this week that NATO Special Forces must halt operations in the province.
Tightly wedged into the snowy room, they shouted chants against the U.S. Special Forces. In the center of the villagers a young man carried pictures of a university student recently found dead under a bridge in the province and of nine men who had disappeared–and whom they believe were unjustly detained by the commandos. The anger and frustration was palpable–but less obvious were details on the implementation of Karzai's order, and exactly which units were being accused of the abuses and what had specifically happened to the men in the pictures.
What is known, through all of the confusion, is that Kabul has put yet another NATO commanding general on his back foot, that the move–if implemented—could jeopardize security in nearby Kabul, that Afghans are sharply divided on the value of the Special Forces, and that the decree brings into question America's strategic plans for counterterrorism operations here after conventional troops leave by the end of 2014.
Although the recent death of the student and the disappearance of the nine men finally triggered the Karzai government to act, Afghans in the province have lodged numerous complaints in the past. "We have received more than 500 complaints from people, by telephone and by people coming in to the provincial governor's office," Mohammed Rafiq Wardak, head of the Provincial Council, tells TIME.
In a statement from Karzai's National Security Council, the government said that, "It became clear that armed individuals named as U.S. special force stationed in Wardak province engage in harassing, annoying, torturing and even murdering innocent people. A recent example in the province is an incident in which nine people were disappeared in an operation by this suspicious force and in a separate incident a student was taken away at night from his home, whose tortured body with throat cut was found two days laterunder a bridge. However, Americans reject having conducted any such operation and any involvement of their special force."
The council stated that the Ministry of Defense would be responsible for ensuring that U.S. Special Forces are "out of the province within two weeks," that Afghan forces would be responsible for "effectively stopping and bringing to justice any groups that enter peoples' homes in the name of Special Forces" and that NATO would have to stop all its Special Forces operations in Wardak immediately.
In a hurriedly convened press conference after the meeting, government spokesman Aimal Faizi clarified that it was not specifically US Special Forces, saying that, "There are some individuals, some Afghans, who are working within these cells, within these [U.S.] Special Forces groups" in Wardak province. "But they are part of U.S. special forces according to our sources and according to our local officials working in the province," he said.
The U.S. and NATO have denied any wrongdoing. NATO officials on Monday said they had found "no evidence connecting U.S. troops to allegations of abuse, torture, harassment and murder of innocent Afghans in the region," while on Tuesday Pentagon Press Secretary George Little said that a joint commission made up of Afghan and NATO officials would be formed to review Kabul's accusations.
"It is very difficult to get beyond the level of rumor on this stuff. There's enough smoke so that it looks like there certainly must be some fire. But the U.S. government has been anything but forthcoming," says Heather Barr, Afghanistan Researcher for Human Rights Watch. "What the government seems to be alleging is that these are forces under U.S. government control. The Afghan government seems to think that they are under the Special Operations Command," says Barr. "So, it's very difficult to untangle, but this is certainly not the first time that there's been evidence that these kinds of forces are operating. Forces that are, in a sense, vigilante forces assembled by the U.S. And since there is so little transparency it is very difficult to know even which part of the U.S. government would be involved: whether these are a child of special operations forces, or whether potentially there is a situation where they are operating without the knowledge of the U.S. military and are supported by the CIA, for example."
And the shadowy nature of the situation may only be a herald of more to come. "It's pretty much inevitable that, as we move towards the 2014 deadline and the drawdown of conventional forces, rather than actually seeing a disengagement from Afghanistan by the international military forces, by the U.S. military, what we are actually going to see is the conflict here sort of change from being a conventional conflict to being an unconventional conflict," says Barr. "Meaning that the U.S. will be replacing their soldiers with drones, CIA and contractors. What all of this adds up to, obviously, is a serious drop off in transparency and accountability. And this [incident] is kind of an example of that. Is this group really operating? Was it set up by the U.S. government? Was it funded by the U.S. government? If so, is it under military control? It's very, very hard to imagine that were really going to get clear answers to those questions. And that may well be part of a situation of a total lack of transparency that seems likely to come up more and more in the years ahead."
The decree may shed light on the government's stance toward future counterterrorism operations on its territory after 2014, but with so many uncertainties remaining, the order may prove to be an instance of Karzai forcing General Joseph F. Dunford Jr., the new commander of U.S. and NATO forces in Afghanistan, into a weaker role, rather than any indication of a future path. "The style in which Karzai has decided to deal with the issue, which has taken the form of a public shaming of NATO, fits in with the way that that relationship has been going in the last year or two. But I don't think that that is necessarily a reason to discount the possibility that this violence really has happened," says Barr.
Afghans, too, are worried about the situation – though for different reasons, reasons that could have an impact on security in Kabul, come the summer fighting season. In an upstairs room of the provincial governor's offices, elders had gathered from Chak, one of the embattled districts who had mobilized to support Karzai's decree. Holding forth over the rest of the elders, Senator Samir Shirzada, had a warning for NATO. "The Special Forces in Chak district are causing a lot of insecurity. They are causing problems for the people. In the winter there is no insurgency in our area. The insurgents go back to Pakistan or Iran or wherever they come from. But the Special Forces in the winter still arrest people," says Shirzada. "They cause problems for the families and so the young men go and join the insurgency. Because the Special Forces disturb the people, this causes the people to join the insurgency. They are killing people, they are arresting people, and so the family members get angry and they go and join the insurgents."
Yet some Afghans disagree with Karzai's decree and with Senator Shirzada's analysis. "Most of the time when we work together with the Special Forces, we do not arrest anyone without evidence, without any reports," says Lt. Mashouq of the Afghan National Army, who, like many Afghans goes by only one name. "Most of the time, people make problems for themselves by keeping in touch with insurgents, and then, when we arrest them, they say they are innocent. I think the presence of Special Forces is very important for us in Wardak because the Afghan army and other Afghan security forces are not that well equipped. If the Special Forces leave the province tomorrow, Nerkh, where I am right now, will fall the next day to the Taliban. We need the support of the Special Forces in Wardak," says Lt. Mashouq.
If Lt. Mashouq's analysis proves correct, Kabul could be in trouble. "First, Wardak is only 25 km from Kabul. If there is security in Wardak, then there will be security in Kabul. If Wardak is not secure, then Kabul will not be secure. Secondly, parts of Wardak province are very mountainous and there are many infiltration routes for insurgents to use and there are no Afghan army or police in these places. The Taliban are in power in many of these areas, so it would be easy for insurgents to attack Kabul." With Afghan forces spread thin and special operations forces possibly on their way out, Kabul could be more threatened than it has been in more than a year.
In the end, regardless of who has been carrying out these attacks, the people of Wardak feel a lack of justice. In the jostling crowd one man reaches out to us and tells us that he too has lost family. In a quiet office upstairs with plastic sheets flapping in the place of windows, Sher Mohammed tells us that his 23-year-old son, Sayeed Mohammad, was riding his motorcycle home after visiting relatives in Nerkh, when he was taken from the road in broad daylight. He has been missing for three months.
"I have been to every prison, to every lockup, asking about him. No one has any information. No one can help me," says Sher Mohammad. "If he was guilty, he should be in prison – I'm not trying to get him out if he is guilty. But just tell me where he is. If he is not guilty and he is missing, the security forces are responsible. They should give me his dead body or tell me where he is, if he is alive." Before tears welled in his old man's eyes and he choked up and could not speak any further, he adds, "For three months I have been looking for my son. There is no justice.
---
Insight - Afghan move against U.S. special forces tied to abuse allegations
Source:
Reuters
By:
Dylan Welch and Hamid Shalizi
KABUL - Two days after masked men burst in to Bibi Shereen's house and took her son away, villagers found his corpse - half-eaten by dogs - under a bridge in Afghanistan's volatile Wardak province.
"His fingers were cut off, he was badly beaten. His hands were swollen, his throat was slit," she told Reuters in her small mudbrick house.
"Why is the government not listening to our voices - why are they not stopping Americans from doing such things."
Shereen supplied no proof that Americans or Afghan forces working with them tortured and killed her son. Reuters was unable to independently verify her claims.
Such allegations have prompted Afghan President Hamid Karzai to bar U.S. special forces from Wardak province, a potentially risky move because it could give the Taliban more room to operate in a strategically important area close to the capital, Kabul.
The men who took Shereen's son had shone flashlights in her eyes and she could not identify them. But she said some spoke with southern Afghan accents, the same as those of the Afghans who work with U.S. special forces in her region. Most Afghans see night raids as a tactic of U.S. or U.S.-led forces.
Karzai's decision to bar U.S. special forces from Wardak could also complicate negotiations between the United States and Afghanistan over the presence of American troops once most NATO troops leave by the end of 2014.
Presidential spokesman Aimal Faizi told Reuters on Monday that there was evidence to back up the accusations of abuse.
"Our statements are based on documents and other evidence provided by provincial officials that say these operations are conducted by U.S. special forces and some Afghan individuals working for them," Faizi said. He declined to elaborate.
A U.S. defence official in Washington said a review in recent months in cooperation with Afghanistan's Defence Ministry and National Directorate of Security (NDS) intelligence agency found no involvement of Western forces in any abuse.
"No coalition forces have been involved in the alleged misconduct in Wardak province," said the official, who declined to be identified.
"ISAF and Afghanistan officials have agreed to a joint commission to look into the current concerns of citizens" in Wardak, he added, referring to NATO's International Security Assistance Force (ISAF).
U.S. Secretary of State John Kerry also said on Monday the complaints against Afghans working for U.S. special forces would be investigated.
Reuters interviewed dozens of residents of Wardak and Afghan government officials who allege that Afghan men working with a small unit of U.S. special forces illegally detained, tortured and killed suspected insurgents. Wardak, just west of Kabul, is a gateway to the city.
In addition to claiming abuses, the Afghan government and military officials and Western officials said in extensive interviews that the allegations Of abuse had deepened mistrust between Karzai's administration and its American allies.
Karzai instructed presidential adviser and former member of parliament Shuja-ul-Mulk Jalala to travel to Wardak and report back to him on the abuse allegations.
Jalala said he was especially troubled by the fate of nine men who he believes, based on the testimony of people in the area, were detained by U.S. special forces and Afghans identified as translators.
The men - including a shopkeeper, a teacher, a driver and a local government employee - were detained at a military outpost used by a small group of elite American special forces in Wardak, some of their relatives said.
"NEVER SEE THE LIGHT AGAIN"
"People complain of being beaten, tortured by U.S. special forces on a daily basis," Jalala told Reuters in his Kabul office. He said while some accusations may be justified, others could be fabricated by villagers fearful of the Taliban.
Reuters spoke to the families of four of the nine missing men, and all said their men folk were taken to the special forces outpost by Afghan men identified as translators, often in the presence of U.S. soldiers.
"My brother, Aziz-ul Rahman, was on his way to bring firewood to the mosque, when the Americans and Afghans forced him to stop, dragged him out of his car and started beating and kicking him," Zabihullah, 22, from Nerkh village, told Reuters.
"Eventually they tossed him in an irrigation ditch near the village. He was badly injured, so we took him to the hospital and later to Kabul, but despite that he died," said Zabihullah, who said his brother had three children.
"The local government know that these bastards, these Afghans and Americans, torture, beat and arrest people all the time but they do nothing."
Other villagers who spoke to Reuters have said the "Afghan translators" spoke a mix of a foreign language, that they believed was English, and Pashto and variously wore traditional outfits or Afghan army and U.S. military uniforms.
"They carry big guns and drive quad bikes," said Nehmatullah, 24, from Deh Afghanan village close to the provincial capital of Maidan Shah.
It is uncommon for ISAF's Afghan translators to carry weapons, and when they do it is typically a sidearm for self-defence. Afghan translators working with coalition forces are also forbidden from wearing Afghan army uniforms.
"They come in the villages at all times of day and night and there are often two, three or four foreigners with them," Nehmatullah said.
Ashuqullah, 18, said he was detained along with his cousin, Mehrabuddin, by the same special forces group of Americans and Afghans.
"I was released but they kept Mehrabuddin. On the way to the base an Afghan man - maybe the Americans' translator - was slapping Mehrabuddin in his face and was telling him that he would never see the light again."
Mehrabuddin has been missing since then, his cousin said.
Some of the villagers who have experienced what they allege are the abuses of the Americans and Afghans, have since travelled to Kabul to complain directly to parliament.
Those complaints have been passed on to the Presidential Palace and some have reached Karzai, a palace official said.
A coalition staff officer familiar with the situation in Nerkh told Reuters that four of the nine missing men had been detained by Afghan and coalition personnel.
"Through various intelligence methods, these four had been positively identified as either active members or associated supporters of insurgent or criminal networks."
Coalition forces had no information regarding the other five men, and had "no record of any contact with them", the staff officer said.
Not all of the abuse is alleged to have taken place at the U.S. special forces outpost.
Other allegations - these from Afghan authorities - focus on a grainy mobile phone video that people who have seen it say shows an Afghan man, identified by the government - without providing substantiation - as a man called Zakeria Kandahari.
ISAF and Afghan government officials said Kandahari previously worked with U.S. special forces in Herat and Kandahar provinces.
In the video, Kandahari is seen wearing a U.S. military uniform and repeatedly kicking an Afghan man.
A Western military official said the beating occurred at the offices of the country's NDS intelligence agency in Wardak's Nerkh district, not far from the special forces outpost.
The video was described to Reuters by Afghanistan's most senior general, army chief of staff Sher Mohammad Karimi, during an interview.
"There was a clip in which he was beating some civilian, he was in uniform and he was speaking Pashto," Karimi said.
"There was a guy, you can't see him, but he is speaking in good English, that clearly shows that someone was there from the international forces."
He said the English voice sounded to be that of a native speaker, most likely that of a North American.
The video quickly came to the attention of Defence Minister Bismillah Khan Mohammadi, who sought an explanation from the head of foreign special forces in Afghanistan, U.S. Major General Raymond "Tony" Thomas.
In a statement to Reuters, ISAF said a review of the video determined that no coalition forces were present or involved in the incident.
The Ministry of Defence said it established that the Afghan man in the video was Kandahari and the Afghan government demanded that he been handed over.
Reuters has established through reliable sources that Kandahari was at the Nerkh special forces outpost when this request was made, but he later left. Reuters has been unable to locate Kandahari or to independently determine his role in any human rights abuses.
His departure from the outpost led to suspicion within the highest levels of the Afghan government that Kandahari was allowed to escape by his American special forces handlers, though they have no evidence to back up their suspicion.
ISAF special forces command declined to comment on whether Kandahari worked for them in Wardak.
When Mohammadi and the Presidential Palace were told that Kandahari had escaped, they were furious, a source in the palace said. That incident has led to Karzai's decision to demand that U.S. special forces leave Wardak within a fortnight.
(Additional reporting by Mustafa Andalib, David Alexander and Warren Strobel in WASHINGTON; Editing by Michael Georgy and Robert Birsel)
---
US, Afghans Investigate Atrocities Claims
Source:
VOA
By:
Luis Ramirez
THE PENTAGON — U.S. military officials said they have set up a joint U.S.-Afghan commission to look into Afghanistan's complaints that Afghan forces supported by U.S. troops have been torturing and murdering innocent civilians.
The joint commission will look into the complaints, which on Sunday prompted Afghan President Hamid Karzai to order all U.S. special operations forces out of Wardak, a strategically important province near Kabul.
Pentagon spokesman George Little told reporters Monday U.S. officials will try to find out what prompted the government of President Karzai to make the decision, which military officials said they were not expecting.
"We're working with the government of Afghanistan to define precisely what their concerns were. Obviously, we take all of their concerns very seriously," he said.
Mr. Karzai's decision comes shortly after his government banned NATO air strikes in populated areas - a move analysts say demonstrates the Afghan government's growing anxiety about civilian casualties as most U.S. and foreign troops prepare to exit the country at the end of next year.
Michael O'Hanlon, a defense analyst at the Brookings Institution research organization in Washington, said there is a problem of confidence.
"It's pretty clear that President Karzai does not fully believe in the war strategy," he said. "I think it's been true for a while, frankly, partly because the war's been so frustrating for him and for us. But his confidence level that the downsides of war are worth it has declined."
Building the confidence of Afghans is key at this stage in efforts to hand over security responsibility to Afghan national security forces, a process expected to be complete by the time most international troops withdraw at the end of 2014.
Senior NATO officials say they do not believe the growing Afghan restrictions on the operations will ultimately hinder their overall mission. As one NATO official put it, some tactical successes are not worth the strategic risk of losing the confidence of the Afghan people.
O'Hanlon saw a positive sign in the Afghan government's growing assertiveness. He said, "Afghans or at least President Karzai are behaving like they control their own country and they're taking on sovereign responsibility. That's a transition that needs to be happening, is happening, and needs to be complete pretty soon. That mentality is actually appropriate. We don't want a dependent state."
President Obama has announced that more than half of the 66,000 U.S. troops now in Afghanistan will be out by this time next year. The U.S. says that exit will be gradual so as to keep enough troops in place to advise, train and assist Afghan forces during this year's fighting season and next year's elections.
---
U.S.-Backed Forces Tortured, Abducted and Killed Civilians, Claims Afghan Gov't
Source:
AlterNet
By:
Alex Kane
The inquiry comes after Afghan President Hamid Karzai barred U.S. troops from operating in the province where the abuses allegedly took place.
A day after Afghan President Hamid Karzai accused U.S.-trained Afghan security forces of committing serious human rights violations, a joint inquiry with NATO has been formed to investigate the allegations [3]. The formation of the inquiry comes soon after Karzai barred U.S. troops [4] from operating in the Maidan Wardak province, which is where the abuse allegedly took place.
The New York Times reports today [3] that nothing much is clear as to what happened. Interviews with officials in both the U.S. and Afghan governments did not resolve anything. "Everyone seemed confused, scrambling to confirm details of the events that led the Afghan government to issue the ban and demand Western cooperation in investigating accusations," the Times notes. The paper reports that nobody knows which U.S. forces will be barred from operating in the province, a strategic location in the U.S. war effort.
"In the absence of answers, American and NATO [5] officials agreed to form a joint commission with the Afghan government to investigate," the New York Times' Matthew Rosenberg writes [3]. "Still, a senior NATO spokesman, Brig. Gen. Günter Katz of Germany, said at a news conference on Monday that a previous inquiry could not confirm abuses by Western forces or Afghans working with them in Maidan Wardak."
The dispute centers around reports [4] from Afghan villagers that people in the province had been killed, abducted and tortured by U.S.-trained Afghan security forces. "There have been lots of complaints from the local people about misconduct, mistreatment, beating, taking away, torturing and killing of civilians by Special Forces and their Afghan associates," Attaullah Khogyani, a spokesman for the government in the province, told the Times.
The forces that carried out the alleged attacks, which have not been confirmed, may have been security units trained by the Central Intelligence Agency. They operate beyond the knowledge and control of the official Afghan government.
The anger at U.S. forces is the latest episode to show increasing distrust of international occupation forces. U.S. Special Operations Forces have been accused of committing human rights abuses against Afghans. Yesterday, the Times reported on a February 13 raid that an Afghan villager said left a veterinary student dead three days after he was detained.
But the Obama administration has been pushing for a continued Special Forces presence in the country after most U.S. troops leave in 2014.
---
Reported drop in Taliban attacks in Afghanistan was incorrect
Source:
Associated Press
By:
Robert Burns
WASHINGTON — The U.S.-led military command in Afghanistan incorrectly reported a decline last year in Taliban attacks and is preparing to publish corrected numbers that could undercut its narrative of a Taliban in steep decline.
After finding what they called clerical errors, military officials in Kabul said Tuesday that a 7 percent drop in "enemy initiated attacks" for the period from January through December 2012 reported last month will be corrected to show no change in the number of attacks during that span.
The 7 percent figure was included in a report posted on the coalition's website until it was removed recently without explanation. After The Associated Press inquired about the missing report, coalition officials said they were correcting the data and would republish the report.
"During a quality control check, ISAF recently became aware that some data was incorrectly entered into the database that is used for tracking security-related incidents across Afghanistan," said Jamie Graybeal, a spokesman for the U.S.-led coalition known officially as the International Security Assistance Force, or ISAF.
Mr. Graybeal said a subsequent audit determined that portions of the data from unilateral Afghan military operations were "not properly reflected" in the trends ISAF had reported in its monthly updates on security and violence.
"After including this unilateral ANSF (Afghan National Security Force) data into our database, we have determined that there was no change in the total number of EIAs (enemy initiated attacks) from 2011 to 2012," Mr. Graybeal said.
"This was a record-keeping error that we recognized and have now corrected," he added.
The coalition defines enemy-initiated attacks as attacks by small arms, mortars, rockets and improvised explosive devices, or IEDs. But it does not include IEDs that are found and cleared before they explode.
Trends in Taliban attacks are one yardstick used by ISAF to measure war progress. Others include the state of security in populated areas, the number of coalition and Afghan casualties, the degree to which civilians can move about freely, and the performance of Afghan security forces.
Mr. Graybeal said that even though the number of 2012 Taliban attacks was unchanged from 2011, "our assessment of the fundamentals of campaign progress has not changed. The enemy is increasingly separated from the population, and the ANSF are currently in the lead for the vast majority of partnered operations."
---
Is the US maintaining death squads and torture militias in Afghanistan?
Source:
Guardian
By:
Glenn Greenwald
Afghan President Hamid Karzai and local residents insist that the answer is yes
In 2010, as WikiLeaks published hundreds of thousands of classified documents relating to the conduct of the US government, government defenders dismissively claimed that they revealed nothing new. Among the many documents disproving that claim were ones relating to a US policy in Iraq set forth in "Frago 242", which ordered coalition troops not to stop or even investigate torture and other war crimes by the Iraqi forces they were training, but simply to "note" them.
And note them they did: the logs record thousands of cases of Iraqi forces severely beating, brutalizing and torturing Iraqi civilians while US forces, with rare exception, did nothing to stop it (when the documents were released, the Guardian detailed just some of the illustrative cases). As the Atlantic's Marc Ambinder wrote at the time, the documents contain "incredibly awful reports of systematized detainee abuse by Iraqi soldiers and security forces right under the noses of the American-led coalition, which appears to have had virtually no incentive to put a stop to them" (as usual, these documents were classified not to safeguard US national security but rather to conceal bad and embarrassing acts on the part of the US government: that is why it is not hard to understand why the US government is so aggressive about punishing Bradley Manning, WikiLeaks, and other whistleblowers and journalists who expose these secrets).
In Afghanistan on Sunday, President Hamid Karzai alleged that the US is doing something much worse: not merely standing by and watching their trained forces torture and kill, but actively and systematically participating. As the Guardian's Golnar Motevalli reported:
"The Afghan government has ordered US special forces to leave one of Afghanistan's most restive provinces, Maidan Wardak, after receiving reports from local officials claiming that the elite units had been involved in the torture and disappearance of Afghan civilians. . . .
"The provincial governor and other officials from Maidan Wardak presented evidence against US forces at the national security council meeting. The presidential palace later issued a statement saying: 'After a thorough discussion, it became clear that armed individuals named as US special forces stationed in Wardak province engage in harassing, annoying, torturing and even murdering innocent people.
"'A recent example in the province is an incident in which nine people were disappeared in an operation by this suspicious force and in a separate incident a student was taken away at night from his home, whose tortured body with throat cut was found two days later under a bridge,' the statement added" . . . .
"Aimal Faizi, spokesman for Karzai, said the decision came after of months of reports of abuse.
"'People have been complaining about US special forces units torturing people, killing people in that province, and nine individuals were taken from their homes recently and they have just disappeared and no one knows where they have gone,' Faizi said."
Since Sunday, the New York Times' Matthew Rosenberg has written two detailed articles on these events. On Monday, he noted that the Karzai spokesman specifically cited "a raid on a village on 13 February, when American troops and Afghans working with them detained a veterinary student. 'His dead body was found three days later in the area under a bridge," the spokesman said." This morning, Rosenberg noted that the student was actually beheaded.
Motevalli noted that "US military officials have rejected the allegations". Rosenberg also notes that military officials express bewilderment over the allegation that these abuses are being "committed by Afghan irregulars who worked with elite American forces" and that "some Afghan officials believe the suspects are part of a force whose existence has been kept secret by the Americans." And a NATO spokesman said that it was unable to confirm past claims of torture on the part of their Afghan forces.
But there's no question, as Rosenberg notes, that "throughout the war, the United States military and the CIA have organized and trained clandestine militias. A number still operate, and remain beyond the knowledge or control of the Afghan government." Recall that the CIA got caught making payments for years to Karzai's suspected drug-running brother, Ahmed, "for a variety of services, including helping to recruit an Afghan paramilitary force that operates at the CIA's direction in and around the southern city of Kandahar". These are the US-controlled militias, beyond the authority of the Afghan government, on which the US intends to rely if and when it "withdraws" from that country.
It may very well be that US military officials are telling the truth when they claim they are not involved with these specific units, but that the Afghan grievances are completely accurate. That is because, as Rosenberg explains:

"One possibility that would match the descriptions of attackers offered by local Afghan officials and, at the same time, exclude American military forces would be that the suspects were working with the Central Intelligence Agency, whose operatives run militias in a number of provinces. A spokesman for the CIA refused to comment on the issue.
"One senior Afghan official said it was possible: Afghans, he said, make no distinction between military-type outfits. Americans with weapons, high-end gear and facial hair were 'all special forces. It's a phrase that catches all.'"
What is absolutely certain is that what Rosenberg calls the "aggressive tactics" of US special forces have previously "resulted in abuses, and attempted cover-ups" of exactly the type being alleged now.
As but one illustrative example: in 2010, as I wrote at the time, US forces in the Paktia Province, after surrounding a home where a celebration of a new birth was taking place, shot dead two male civilians (government officials) who exited the house in order to inquire why they had been surrounded, and then shot and killed three female relatives (a pregnant mother of ten, a pregnant mother of six, and a teenager). When local villagers loudly complained, the Pentagon lied about what happened, claiming that the dead males were "insurgents" or terrorists; the bodies of the three women had been found by US forces bound and gagged inside the home, and suggested that the women had already been killed by the time the US had arrived, likely the victim of "honor killings" by the Taliban militants killed in the attack. US media outlets, needless to say, mindlessly recited the US government's claims (CNN: "Bodies found gagged, bound after Afghan 'honor killing'"), but the Pentagon was finally forced to admit that its Special Forces had killed the women and then covered-up and lied about what happened.
Whatever is true about these latest human rights abuses, the perception is widespread in Afghanistan that the US is responsible and that the militias it is training are no better than the Taliban. From Rosenberg:
"The action also reflected a deep distrust of international forces that is now widespread in Afghanistan, and the view held by many Afghans, President Hamid Karzai among them, that the coalition shares responsibility with the Taliban for the violence that continues to afflict the country. . . .
"But Afghan officials cited as even more troubling American Special Operations units' use of Afghan proxy forces that are not under the government's control. Afghan civilians and local officials have complained that some irregular forces have looked little different from Taliban fighters or bandits and behaved little differently."
So that's where the US is after almost 12 years of waging war in that country, the longest war in its history. The US is blamed on equal terms with the Taliban, at least. It maintains and supports (if not directs) non-government militias which are perceived, with ample evidence, as being death squads and torture units. Thus do we find, yet again, that the fruits of US humanitarian interventions - liberating the oppressed and bringing freedom and democracy to the world - are little more than replicating the abuses of the tyrannical regime it targeted, just under a different owner. Most amazing of all, the next time a new "Good War" is proposed, none of this will stop large numbers of Americans from believing that both the goals and the likely outcome will be beneficent.
---
Complaints on U.S.-led Afghan troops to be checked, Kerry says
Source:
Reuters
By:
Arshad Mohammed
LONDON - U.S. Secretary of State John Kerry said on Monday complaints against Afghans working for U.S. special forces in Afghanistan would be investigated, a day after Afghan President Hamid Karzai ordered U.S. troops to leave a critical battleground province.
Karzai's spokesman on Sunday said Karzai had decided that all U.S. special forces must leave Wardak province within two weeks, after accusations that Afghans working for them had tortured and killed innocent people.
The move could further complicate talks between the United States and Afghanistan over the presence of American troops in the country once most NATO forces leave by the end of 2014.
"With respect to Afghanistan and Wardak province, I understand the concerns that they have expressed. And appropriately, any complaints that they may have ought to be appropriately evaluated, and they will be, I can assure you," Kerry told reporters during a visit to London.
Kerry said it was up to the NATO-led International Security Assistance Force (ISAF) to investigate. On Sunday ISAF said it was aware of the allegations of misconduct but would not comment further until it had spoken to Afghan officials.
In Washington, a U.S. defense official said no ISAF troops themselves were involved in any misconduct, as earlier Afghan statements had alleged.
"In recent months, a thorough review in cooperation with the Defense Ministry and National Directorate of Security has confirmed that no coalition forces have been involved in the alleged misconduct in Wardak province," the official said.
"Because we take these allegations seriously, ISAF and Afghanistan officials have agreed to a joint commission to look into the current concerns of citizens in Maidan Wardak."
Relations between Karzai and his international backers have at times been fraught, with the Afghan president warning that civilian deaths could sap support for foreign troops and fuel the insurgency.
Earlier this month, Karzai said Afghan security forces would be banned from calling for NATO air strikes in residential areas after 10 civilians died in one such strike.
Karzai's anger over the conduct of Afghan troops working with ISAF raises the pressure on Afghan forces as they increasingly assume control of security.
NATO and its partners are racing against the clock to train Afghanistan's 350,000-strong security forces, though questions remain over how well the Afghans will be able tackle the insurgency in the face of intensifying violence.
Kerry said Karzai had "many legitimate evaluations" of where things have gone wrong or could be improved but indicated that negotiations on transition and an agreement on the presence of some U.S. troops in Afghanistan after 2014 were going well.
"We're working on a bilateral security arrangement; we're working on this transition process. We've had a very good conversation with the President (Karzai) in the last days," Kerry said.