---
How Soviet troops stormed Kabul palace
Source:
BBC
By:
The BBC World Service has brought together for the first time two people who were on different sides in the palace that day - a Soviet soldier and a young Afghan girl, Lucy Williamson reports.
It was the first time Najiba had set foot inside the palace. For an 11-year-old girl, she says: "it was like something from a movie: the staircases, the golden lift, the chandeliers, and the glitter - the beauty of it."
It was all brand new - the palace had just been refurbished. And Najiba's parents had been invited there for a party, to show off the new design.
It was 27 December, 1979. And as the guests warmed themselves with lavish food, outside the palace walls other - uninvited - guests waited in the winter cold.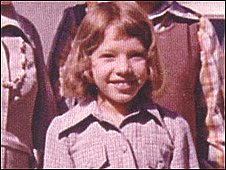 " The things I saw, my God, I saw a person… like a scene from a nightmare movie, dead bodies, lots "
Najiba
Afghan eyewitness
Among them was Rustam Tursunkulov, a 23-year-old special forces commander with the Soviet army. As Najiba bickered with her brother over the party food, outside Rustam prepared to give the order.
Thirty years on, Rustam was sitting in our Moscow studio, after the BBC's Russian Service had found and contacted him.
"In the end," he told me, "I didn't really order them at all. I hugged each of my men and said: 'I'll go ahead, you follow'.
"We had no body armour and hardly any of us had helmets. We had to run through a shower of bullets.
Panic set in
"I kept the magazine of my rifle and my helmet for a long time afterwards - they were riddled with bullet holes."
The coup had begun.
Inside the palace, confusion spread quickly.
"There was this huge, loud sound," Najiba remembers. "A huge explosion that shook the place. We had to run to the corridor and my nice yellow shoes were left behind and my white coat - I really wanted them, but my mum said there was no time, we had to run."
Out in the corridor, Najiba saw President Amin half-dressed, shouting to his family; his wife running, bringing the Kalashnikovs.
As panic set in among the palace residents, Rustam and his men moved methodically through the building.
"We killed the Afghans who put up any opposition to us," said Rustam. "The building was on fire and by the light of the flames we could see silhouettes. We recognised our own people because they were swearing in Russian."
"The things I saw," said Najiba. "My God - people on the floor. I saw a person… like a scene from a nightmare movie. Dead bodies. Lots."
Begs forgiveness
Rustam tells me his orders were to kill everyone they met in the palace. I ask him if he did.
"I was a Soviet soldier," he says. "We were trained to accept orders without question. I was in the special forces - it's the worst job.
"In any army there has to be someone who'll do the harshest, most horrible tasks. Unfortunately, it's not soldiers, but politicians who make wars."
I ask him how many people he thinks he killed that night.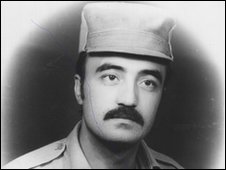 " I want to thank you for talking to me and beg your forgiveness for what we did "
Rustam Tursunkulov
Former Soviet soldier
"If I knew, I wouldn't tell you," he says. "I just carried out orders, I didn't count them."
As I talked down the line to Rustam in Moscow, Najiba came into the studio and sat down shakily.
It was the first time she had spoken to anyone involved in the coup. Clutching a tissue, she spoke haltingly into the microphone.
"Hello," she said. "My name's Naijba, and I was inside the palace 30 years ago."
Rustam's voice came back from Moscow: "I want to thank you for talking to me and beg your forgiveness for what we did.
"It was a terrible thing, but you need to hear both sides of it."
Bled to death
Najiba told me she had been up all night turning over in her head the questions she wanted to ask. "There were so many," she said. "It's been 30 years."
But in the end, she asked about the children - there had been lots of them in the palace that day, including the president's own 11-year-old son.
"What happened to him?" Najiba asked. "Did you try and save the children?"
Rustam replied: "Please try to understand that when there's a battle going on, it's hard to know there are children there.
"Amin's son was hit by shrapnel and bled to death. All the bodies were wrapped in carpet and buried near the palace. There was no ceremony for them."
Najiba asked him: "Do you remember me? I had blond hair then, and my mother was very fair."
"No," said Rustam. "I'm sorry."
"How long did the whole operation take?" asked Najiba.
"Forty-three minutes," he said.
It was 43 minutes that turned into a nine-year war, took the Cold War to a new level, and left more than a million people dead.
Rustam and Najiba are both writing books about their memories of that night.
As they end their conversation, Rustam promises to send Najiba some documents, to help with her research.
They say goodbye, and the line to Moscow goes dead.
You can hear more from both Najiba and Rustam in a special two-part series of 'Witness' on the BBC World Service, on Monday 28 December and Tuesday 29 December.
---
دا د يوې لس کلنۍ نجلۍ ( نجيبې زيري، چې د هغه وخت د روغتيا د وزير ډاکټر صالح محمد زيري لور ده ) کيسه ده چې د ١٩٧٩ کال د دسمبر په ٢٧ نېټه ( د ١٣٥٨ کال د جدي ٦ ) له خپلې کورنۍ سره د وخت د ولسمشر له خوا د ولسمشرۍ ماڼۍ ته بلل شوې وه .
په هغه پېښه کې حفيظ الله امين او د هغه دوه زامن ووژل شول .
له پېښې ديرش کاله وروسته نجيبه زيرى د بي بي سي پښتو ويبپاڼې ته خپله کيسه کوي چې موږ يې کټ مټ وړاندې کوو .
مېلمستيا
د سهار يولس نيمې بجې وې . له خپلې مور او مشري ورور سره چمتو شوې وم چې د ولسمشر ميلمستيا ته ورشو .
ولسمشر حفيظ الله امين زما پلار ميلمه کړى و . په تاج بيک کې مېلمستيا وه . موټر چلونکي مو دروازه پرانيستله .
د ښار له يخ ځپلو سړکونو چټک تير شو . د پلازمينې سويلي برخو ته رهي و .
د لوړو غرونو په لمن کې د يوې غونډې په سر د ولسمشر ماڼۍ ، تاج بيک ته ورسيدو .
دويم پوړ ته له دوو خواوو زينې پورته شوې وې . پاس لوى څراغونه راځوړند و چې په رڼا ورځ لا لگول شوى و .
خورا ښکلې غالۍ ويړې وې ، په دېوالونو انځورونه او عکسونه و .
زۀ او ورور مې له خپلې مور سره د ښځو ناستې ته ورغلو .
سړي جلا ول . ښځې په دويم پوړ کې ناستې وې . د ولسمشر حفيظ الله امين ميرمن مو هرکلي ته رامخته شوه .
هغه لوړه دنگه ښځه وه . موسکه وه . مينه ناکه ښځه وه موږ يې په غيږ کې ونيولو . په دغه خونه کې د امين انږور هم ناسته وه .
له هغې سره څلور مياشتنى ماشوم و ، غمى يې باله . د غمي انا هم وه چې د ولسمشر خواښې وه ، سپين سارې ښځه وه . نورې ښځې د وزيرانو ميرمنې وې . ښځو د ولسمشرۍ د دغې ماڼۍ کيسې کولې .
غرمنۍ
لږ وروسته يې غرمنۍ ته وروبللو . يوه بله لويه خونه وه . ډير لوى ميز ايښى و . بيلا بيل غابونه ، پنجې او نور لوښې ايښي و .
ميز د گلانو په يوې ښکلې گيډۍ سينگار شوى و . زۀ او ورور مې د مور يوې او بلې غاړې ته کښېناستو .
د حفيظ الله امين ميرمن وويل دغه کسان شوروي ډاکټران دي چې زموږ ډوډۍ هره ورځ گوري .
شوروۍ ښځې زموږ ډوډۍ ته کتل . شنې سترگې يې وې . لومړى يې ښوروا راکړه . ښځې په ميز کې ټولو ته کتل چې څوک يې خوري او څوک ورته گوري .
زما مور په هغو ورځو کې د اوو مياشتو ميندواره وه . دې به لا درې څلور څمڅۍ ښوروا نه وه څښلې چې شورورۍ ورته ودريده .
په چابکۍ يې زما د مور له مخې د ښوروا کاسه واخيسته .
ښوروا خورا خوندوره وه خو وار د واره يې خوبوړې کړم . ښه مې په ياد دي چې شرميدلم . ما ويل په داسې وخت کې ولې خوب راځي .
مور ته مې وويل : مورې ماته خوب راځي . مور مې کېکاږلم ، ويل يې : ځان ټينگ کړه ، شرم دى .
خو ما د مور په پښه سر کېښود او ويده شوم .
بريد
يو وخت د چاودنې په غږ راويښه شوم . تلويزيون روښانه و د استاد شاولي سندره وه خو سملاسي تلويزيون مړ شو.
مور مې وويل خدايه خير . له دې سره يې دهيلز ته وايستلو . په دهليز کې مې ولسمشر امين وليد . سپين بې لستوڼو کميس يې اغوستى و.
دلته د غمي پلار چې د امين زوى و او څو کسه نور سړي هم هلته ولاړ ول . يو چا ويل : څوک دي څوک دي ؟ نه پوهيږم چا وويل روسان دي .
ټول حيرانه شول چې روسان او داسې کار ؟
مور مې موږ يوۀ بل پوړ ته وخيژولو . يوې کوټې ته ولاړو ، د ورۀ مخته مو ميزونه کېښودل .
خپله د کړکۍ لاندې د يوۀ کوچ شاته پرېوتلو . ښه ځنډ وروسته يو چا دروازه وټکوله .
په نابلده فارسي لهجه يې ويل : تر پنځو حساب کوو دروازه راخلاصه کړئ . ورسره يې حساب پيل کړ . يو يونيم دوه دوه نيم .....
مور مې ورغږ کړل چې کوچينان او ښځې دي .
مور مې ور پرانيست چې دباندې مې وکتل گڼ وسله وال کسان ولاړ و دروازې ته يې برچې نيولې وې .
موږ يې په مخه کړو . زما مور زرغون کميس اغوستى و . زۀ زنگيدم.
د مور کميس ته مې سترگې نيولې وې چې له هغې بېله نه شم .
دغه ماڼۍ چې سهار راته فلمي ښکاريده ، اوس يې غولى له اوبو ډک و ، دباندې يې د اور لمبې وې او په پوړيو کې يې وينې وې او مړي پکې پراته و .
مور راته ويل مه گوره مه گوره .
موږ يې يوې کوټې ته بوتلو .
هلته د حفيظ الله امين ميرمن ، د هغې درې لوڼې ، انږور او سپين سرې خواښې ناسته وه ، درې څلور افغان پوځيان هم هلته و . د امين دوې لوڼې په پښو لگيدلې وې .
يو لوړ دنگ افغان راغى ، د حفيظ الله امين ميرمنې ته يې وويل : در ومو واژۀ .
هغې ورته وويل : نه شرميږې ، ځان ته نر هم لا وايې ، کونډې ته يې وايې ؟
يو څوک راغلل او د امين ټپي شوې لوڼې يې بوتلې . ويل يې روغتون ته يې بيايي .
ديرش کاله وروسته
پوره ديرش کاله وروسته له هغه يوۀ شوروي عسکر سره په تيلې فون مخامخ شوم چې د ولسمشرۍ په ماڼۍ يې بريد کړى و .
دى د ازبکستان ازبک و . دى د الفا په نامۀ د شوروي د يوې ځانگړې لوا عسکر و ، رستم تورسنکولوف نوميدۀ ، هغه وخت ٢٣ کلن و .
لومړى يې له ما بخښنه وغوښته بيا يې راته وويل امر ورته شوى و چې حفيظ الله امين ووژني .
دۀ وويل په تاج بيک ماڼۍ بايد د ماښام په اووه نيمې بجې بريد شوې واى خو امين تر وخت وړاندې پوى شو او د دوى بريد پنځلس دقيقې وړاندې پيل شو .
دغه بريد ټول ټال ٤٣ دقيقې وغوښتې . نهه شووروي عسکر پکې ووژل شول. او اته کسه افغانان يې ووژل .
دۀ وويل امين او نور وژل شوي افغانان يې په يوۀ ډله ييز قبر کې د تاج بيک ماڼۍ شاته په څو مترۍ کې تر خاورو لاندې کړل .
د حفيظ الله امين ميرمن او د کورنۍ نور ژوندي پاتې شوي غړي يې تر څو کلونو د کابل په څرخي پلۀ زندان کې شپې سبا کړې .
خو موږ له خپلو کوربنو دولس ورځې وروسته بېل شو او کور ته يې ستانۀ کړو .
له يوې خونړۍ پېښې وروسته بله
زۀ له هيواده ووتلم . روسان هم له افغانستانه ووتل . خو مور مې په کابل کې پاتې شوه .
د ډاکټر نجيب له حکومته څو مياشتې وروسته ټوپکوال زموږ کور ته ورغلل .
مور مې ، خور مې او ورور مې په کور ول .
هغه د تاج بيک له خونړۍ پېښې ژوندۍ ووته خو په کور دننه ټوپکوالو پرې دريغ ونه کړ