---
Pride Of Afghans

The Afghanistan national cricket team is the team that represents the country of Afghanistan in international cricket matches. Cricket has been played in Afghanistan since the mid 19th century, but it is only in recent years that the national team has become successful. The Afghanistan Cricket Board was formed in 1995 and became an affiliate member of the International Cricket Council (ICC) in 2001 and a member of the Asian Cricket Council (ACC) in 2003. They are ranked 9th in International Twenty20 cricket as of 7 January 2017 ahead of full members Bangladesh and Zimbabwe.[3] In the same year they won their first Intercontinental Cup, beating Scotland in the final. Afghanistan also won the Asia Vs Caribbean T20 Championship and beat T&T, Bangladesh and Barbados.
Afghanistan's end-overs smash, Ireland's Powerplay wallop
SHIVA JAYARAMAN
ESPN Sports
Stats highlights from the third T20I between Afghanistan and Ireland in Noida, where a number of T20I records were broken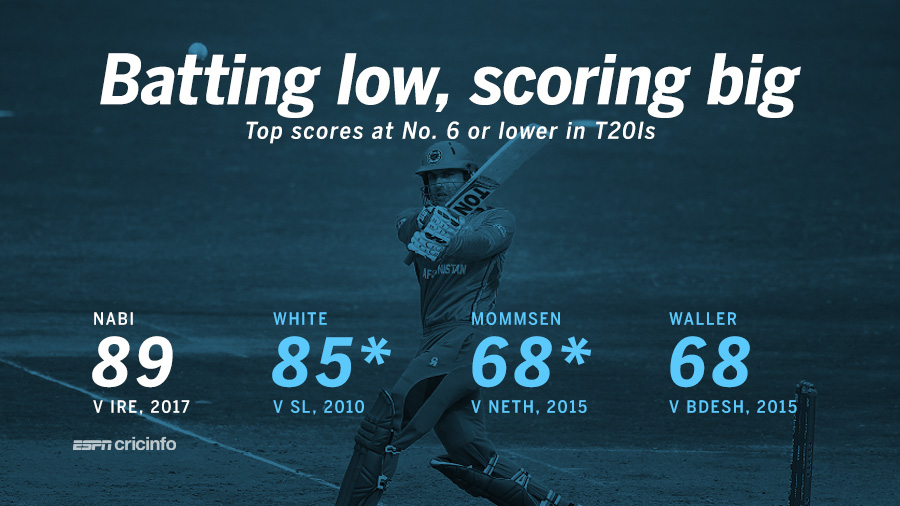 0 Totals by Associate teams in T20Is bigger than Afghanistan's 233 in this match. The previous highest was Ireland's 225 for 7 against Afghanistan in the final of the ICC World T20 qualifier in 2013. Afghanistan's previous highest total was 215 for 6, which they made against Zimbabwe in Sharjah in 2016. Afghanistan's 233 for 8 is the eighth-highest total in T20Is. Click here for the highest totals in T20Is.
104 Runs plundered by Afghanistan in the last-six over of their innings - the highest made by any team in T20Is in the last-six overs. Australia had made 97 runs against Sri Lanka in a T20I in Pallekele last year, which were the previous most.
91 Runs scored by Ireland in the Powerplay overs - joint-most in these overs in a T20Is. Netherlands had hit the same number of runs against them in Sylhet in the first round of the 2014 World T20.
0 Number of scores bigger than Mohammad Nabi's 89 by batsman at No. 6 or lower in T20Is. The previous highest was Cameron White's 85 not out batting at No. 6 against Sri Lanka in the 2010 World T20. Click here for the highest individual scores at No. 6 or lower in T20Is.
2 Number of individual scores in T20Is by Afghanistan batsmen higher than Nabi's 89. Mohammad Shahzad's 118 not out against Zimbabwe in 2016 is the highest, followed by Najeeb Tarakai's 90 in the second T20I of this series. Click here for Afghanistan's highest individual T20I scores.
21 Balls taken by Nabi to reach his fifty in this match - the fewest by any Afghanistan batsman in T20Is. Their previous fastest fifty was Najibullah Zadran's 22-ball half-century against UAE in a T20I in Dubai in 2016. Nabi's fifty is also the fourth-fastest by an Associate batsman in T20Is. Stephan Myburgh of Netherlands and Paul Stirling of Ireland hold the record for the fastest half-century: off 17 balls against Ireland and Afghanistan respectively.
9 Sixes hit by Nabi in this match - the most by an Associate batsman in T20Is. Shahzad's eight sixes against Zimbabwe in 2016 was the previous best. Nabi's nine sixes are also the most by a batsman at No. 6 or lower in T20Is. Ravi Bopara's seven sixes against Australia in Hobart in 2014 was the previous best. Click here for the most sixes in an innings by batsmen at No. 6 or lower in T20Is.
296.66 Nabi's strike rate in this match - the third-highest in an innings of 50 or more runs by any batsman in T20Is. Yuvraj Singh's 16-ball 58 (SR: 362.50) against England in the 2007 World T20 and Colin Munro's unbeaten 14-ball 50 (SR: 357.14) in a T20I against Sri Lanka last year are the innings that rank higher than Nabi's.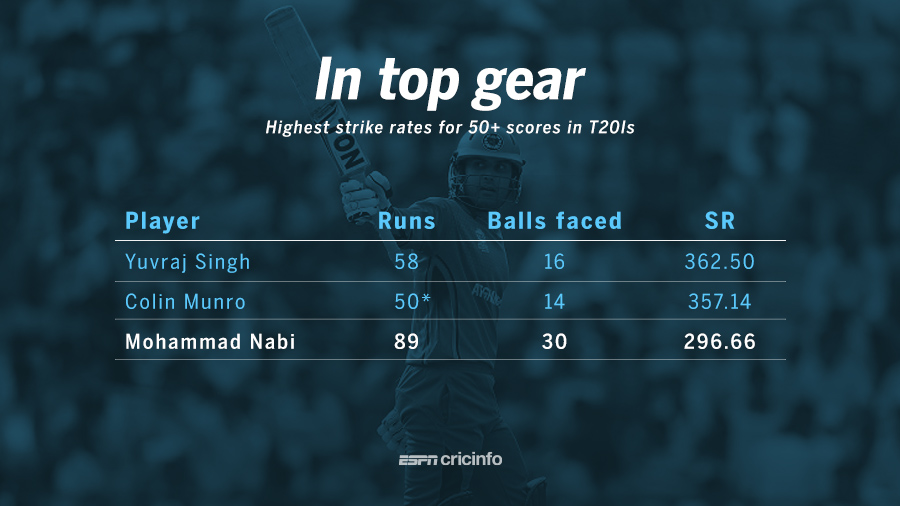 69 Runs conceded by Barry McCarthy in this match - the most by any bowler in a T20I. The previous most was the 68 that Kyle Abbott had conceded against West Indies in in 2015. Click here for the most expensive spells in T20Is.
438 Runs made in this match - the sixth-highest in a T20I. This is also the most runs scored in a match involving two Associate teams. The previous highest was 383 made in a match between Afghanistan and Scotland in the ICC World T20 Qualifier in 2015.
6/5 Ireland's score in the last two overs of the match. They were 199 for 5 at the end of the 18th over - four more than what Afghanistan had made in the first innings. While Afghanistan hit 38 run for the loss of two wickets in their last two overs, Ireland collapsed to 205 all out in the face of the stiff asking rate. There is only one instance when the last five wickets of a team have fallen for fewer runs in a chase in T20Is. Scotland had lost their last five for just two runs, crashing from 89 for 5 to to 91 all out while chasing 184 against Kenya in the 2013 World T20 qualifiers.
---
افغانستان په شل اوريزو لوبو کې ريکارډ جوړ کړ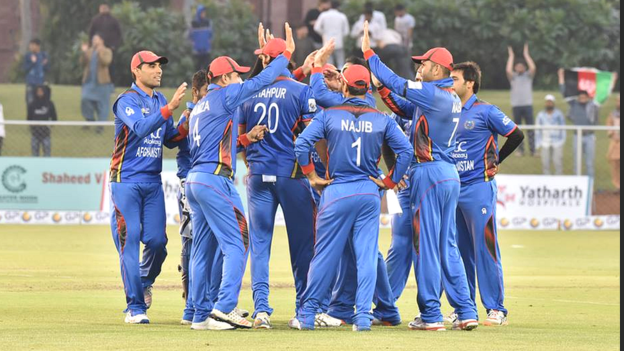 بي بي سي لندن

له ایرلند سره ۲۳۳ منډې د نړیوالو شل اوریزو لوبو په ریکار‌‌‌‌‌‌ډ کې اتم نمبر تر ټولو ‌‌‌‌‌‌ډېرې دي تر دې وړاندې بیا هم له ایرلنډ سره افغانستان ۲۲۵ منډې کړې وې چې زموږ تر ټولو ‌‌‌‌‌‌ډېرې منډې وې.
نړیوال ریکار‌‌‌‌‌‌‌ډ د استرالیا دی چې له سرېلنکا سره یې ۲۶۳ منډې په شلو اوورونو کې تېر کال وکړې.
نبي او شهزاد کم سارې لوبه وکړه.
که افغانستان دا دریمه لوبه هم وګټي نو د دې لړۍ ټولې سیالۍ به یې خپلې کړې وي.
په دې سره افغانستان نړیوال ریکارډ هم جوړ کړ او لومړنی هېواد دی چې پرلپسې لس شل اوره لوبې ګټي.د افغانستان او ايرلنډ ترمنځ د کرېکټ درو شل اوريزو سياليو دويمه لوبه افغانستان په ۱۷ منډو وګټله او د دغو لوبو د لړۍ اتلولي يې خپله کړه.
افغان لوبډلې لومړی منډې جوړې کړې او په ټاکلو شلو اورونو کې يې د ۱۸۴ منډو په جوړولو سره ايرلنډ ته د ۱۸۵ منډو هدف ټاکلی و.
له افغان توپ وهونکو نجيب تره کی ښه وځلېد نوموړي په ۵۸ توپونو ۹۰ منډې وکړې. پر ده سربېره محمد نبي ۳۴، کريم جنت ۲۰ او سميع الله شينواري ۱۷ منډې جوړې کړې.
بله خوا د ايرلنډ توپ اچوونکي بري مکرتي څلور افغان لوبغاړي وسوځول او سټورټ تامسن او جېکب موډلر يوه يوه وېکټه واخيسته.
په افغان توپ اچوونکو کې راشد خان تر ټولو ښه لوبه وکړه، نوموړي د مقابلې لوبډلې پنځه لوبغاړي وسوځول. پر ده سربېره کريم جنت درې او شاپور ځدراڼ يوه وېکټه واخيسته.
د شل اوريزو لوبو په تاريخ کې افغان لوبډلې د پرله پسې لسو لوبو په گټلو ريکارډ ټينگ کړى دى. تر دې وړاندې انگلستان د اتو پرله پسې لوبو په گټلو دغه ريکارډ لاره.
---
شل اوريزو لوبو کې د افغانستان نړيوال ريکارډ
ايمل پسرلی
بي بي سي لندن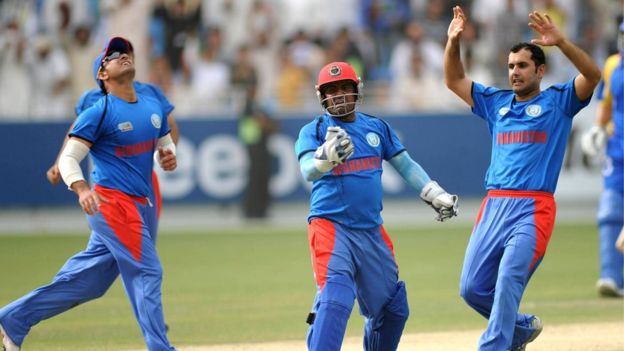 ايرلنډ ته په دويمه شل اوريزه لوبه کې د افغانستان له لورې ماتې لسمه پرله پسې نړيواله لوبه وه چې افغان لوبغاړو په کې برى خپلاوه. بل هېڅ لوبډلې پرله پسې دومره شل اوريزې لوبې نه دې گټلي.
د لسو پرله پسې بريو پيل هغه وخت وشو چې افغانستان تېر کال په نړيوالو شل اوريزو اتلوليو کې ويسټ انډيز ته ماتې ورکړه.
ويسټ انډيز د هغو اتلوليو اتل شو او له بل هېڅ هېواده يې ماتې ونه خوړه.
د ٢٠١٦ کال د مارچ د مياشتې په ٢٧ مه نېټه له ويسټ انډيز سره هغه لوبه افغان لوبډلې په شپږو منډو گټلې وه.
له هغه راهيسته افغانستان څلور ځله له متحدو عربو اماراتو سره، څلور ځله له ايرلنډ سره او يو وار له عمان سره مخامخ شوى او په ټولو لوبو کې بريالى و.
تر دې وړاندې انگلستان د پرله پسې ډېرو بريو ريکارډ درلود چې اته لوبې وې.
انگلستان د ٢٠١٠ کال له مۍ مياشتې د ٢٠١١ کال تر جنوري پورې په پرله پسې اتو لوبو کې برى خپل کړى و.
په هغه هڅه کې انگلستان درې ځله پاکستان ته، دوه وارې استراليا ته، او يو يو ځل سويلي افريقا او سرېلنکا ته ماتې ورکړې وه.
ځينې ښايي ووايي چې افغان لوبغاړو ظاهرآ له ضعيفو لوبډلو سره لوبه کړې ده. خو دا د دوى په لاس کې نه وه چې له چا سره لوبه وکړي.
د ايرلنډ د پرله پسې بريو ريکارډ هم اته لوبې دى. هند، پاکستان او سويلي افريقا يوازې اووه پرله پسې لوبې گټلي.
سرېلنکا ، استراليا، ويسټ انډيز او نيوزيلنډ پرله پسې يوازې شپږ لوبې گټلي دي.
دغو شمېرو ته په پام د افغانستان د پرله پسې لسو بريو ريکارډ د پام وړ دى.
افغانستان تر نورو ډېر وروسته کرېکټ لوبه پيل کړې ده.
په شل اوريزو لوبو کې ځينې افغان لوبغاړي په نړيواله کچه منل شوي دي.
سږ کال د هند د شل اوريزو سياليو اى پي ايل يوې لوبډلې راشد خان او محمد نبي ورخپل کړل چې د دوى د استعداد ښکارندويي کوي.
شهزاد محمدي په شل اوريزو لوبو کې د تر ټولو ډېرو منډو په کتار کې د نړۍ پنځم لوبغاړى دى.
د نجيب ترکي وروستۍ لوبې ته په پام سره داسې ښکاري چې نوي زلمي افغان لوبغاړي لا هم شته چې د افغان کرېکټ راتلونکي ته ښه زيرى دى.
Five-star Rashid spins Afghanistan to series win
Rashid Khan picked up five wickets in ten balls – with a triple-wicket maiden thrown in – as Afghanistan sealed a 17-run win (D/L method) over Ireland in the second of three Twenty20 Internationals at Greater Noida Sports Complex Ground on Friday (March 10).

After Afghanistan, which won the toss, made 184 for 8 in 20 overs, Ireland was 65 for 2 in 6.1 overs when rain intervened. Ireland was well ahead of the D/L par score of 53 for 2 at that stage, but when play resumed, it was given a revised target of 111 in 11 overs, meaning it had to score 46 in 29 balls. Things unravelled pretty fast after that as Afghanistan picked up seven wickets in 18 balls and conceded only two fours in that duration, and Ireland finished on 93 for 9 in 11 overs.

Rashid, the 18-year-old leg-spinner, finished with career-best figures of 2-1-3-5 – the joint fourth best T20I bowling performance, as Afghanistan took an unassailable 2-0 lead in the series and extended its longest unbeaten streak in the format to ten matches. Karim Janat, the right-arm medium pacer, supported Rashid well for returns of 3 for 24, while Najeeb Tarakai, who made 90 in 58 balls opening the innings, was the other hero for Afghanistan in the win.

Before the rain, Ireland was cruising with Paul Stirling and William Porterfield putting on 53 runs for the second wicket after Shapoor Zadran had accounted for Stuart Thompson early. Stirling, who hit four sixes and a four, fell just before the break when Janat bowled him with his sixth delivery. That tilted the equation in Afghanistan's favour, but Ireland wouldn't have expected to collapse the way it did when play resumed.

Janat sent Porterfield back, caught by Rashid at extra cover for 22 in 15 balls, and then Rashid got into the act. He took just three balls to strike for the first time when he bowled Kevin O'Brien with a tossed-up delivery. One ball later, he had Gary Wilson stumped as Ireland became 71 for 5 in 7.5 overs.

Janat then removed Andy McBrine before Rashid produced the triple-wicket over in which he accounted for Lorcan Tucker (first ball), Greg Thompson (fourth ball) and Barry McCarthy (fifth ball).

As much as the day belonged to Rashid and Janat, Tarakai, who added 54 runs with Samiullah Shenwari after Afghanistan was 12 for 2, played an equally significant role.
Tarakai also had stands of 49 and 57 with Janat for the fifth wicket and Mohammad Nabi for the sixth wicket respectively before falling off the first ball of the 20th over. His innings included seven fours and five sixes.

Nabi made a crucial 34 in 15 balls before becoming one of the three wickets to fall in the final over.

For Ireland, McCarthy, the debutant, was the most impressive with the ball. He finished with 4 for 33, which included two scalps in the final over. His effort, however, was not enough for Ireland to save the series.

The third match will be played at the same venue on Sunday.